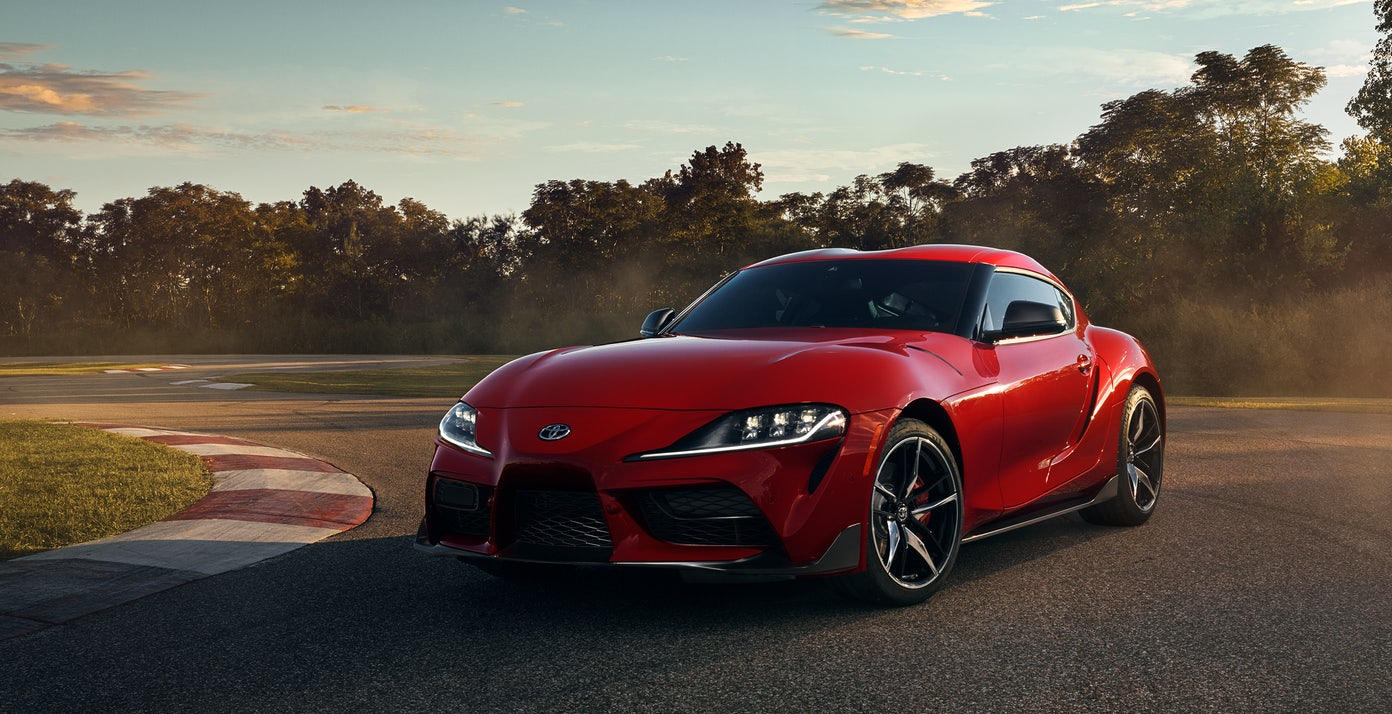 NEW TOYOTA GR SUPRA AT TOYOTA OF BROOKFIELD
The legend returns! After being away for over 15 years, the new 5th generation Toyota Supra returns to Toyota of Brookfield. After being away for that long you may wonder, is it anything like the old one? No. Not at all.
IT'S BETTER!
According to Toyota CEO Akio Toyoda, the new Supra had to be a WOW car, generating more emotion and a feeling of heart-pumping excitement. With the previous version already enshrined as a pop-culture icon, the new Supra could not be anything less. We think the results speak for themselves, as the new GR Supra emerges as its own expression of the brand's performance, design and racing heritage.
WHAT IS IT?
The new Toyota GR Supra is a culmination of research and design on the part of Toyota's Calty Design group and other interests. The GR Supra is a typical long-nosed, short-tailed two-seat sports car with a power to weight ratio that will definitely put a smile on its driver's face, whoever they may be. Available in 3.0 and 3.0 Premium trim levels, the new GR Supra will provide driving enthusiasts an exhilarating blend of power, precision, and agility that comes from Toyota's sports car heritage that dates back to the 1967 Toyota 2000 GT.
Powered by a 3.0-liter turbocharged inline six-cylinder engine that makes 335 horsepower and 365 lb-ft of torque, it will have plenty of low-end grunt. Meaning you won't have to wait until the RPMs spin up before the peak power is delivered. That low-end power on demand comes as a result of a twin-scroll turbocharger, direct fuel injection and the engine's continuously variable valve timing.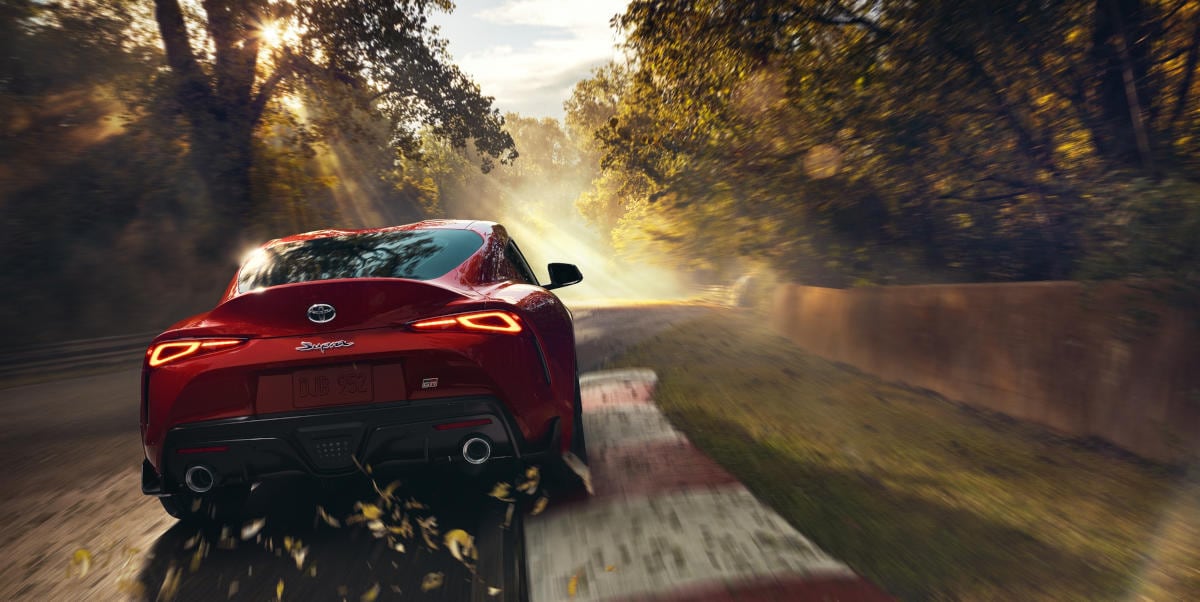 Power is sent to the rear wheels through an 8-speed automatic transmission that delivers rapid shifts through the steering wheel-mounted paddle shift levers. Also on board: A launch control function (Not intended for street or repeated short interval usage) that enables powerful acceleration with maximum traction. A 0-60 mph time of 4.1 seconds makes it the quickest Toyota-branded vehicle to date. Top track speed of the Toyota GR Supra is electronically limited to 155 mph.
The new Toyota GR Supra available at Toyota of Brookfield features two drive modes: Normal and Sport. Sport mode sharpens the throttle response, puts added weight into the steering system, improves the transmission shift feel, kicks in a more aggressive active differential and helps to amplify the exhaust sound. Other track-oriented features include Traction Mode, which is part of the Vehicle Stability Control System. It reduces safety intervention when driving the new GR Supra on a racetrack.
Performance enthusiasts will enjoy the active differential that uses an electric motor and multiplate clutches to control lateral torque. The system controls torque distribution between the rear wheels, enabling greater momentum through the corners. With a 50:50 weight bias, the Supra will deliver perfect balance during every movement.
HOW DOES IT LOOK?
The front fascia of the new Toyota GR Supra was inspired by the one that came before it, the 2012 Supra. But we think it has gone further, for a much more expressive look ahead, than behind. Featuring a prominent central grille, it continues with large intakes on either side. At the rear is a functional integrated spoiler designed to prevent aerodynamic lift, and at the same time pay homage to the tall rear wing that was available on the fourth generation Supra Turbo. 
AND INSIDE?
While both GR Supra vehicles feature the same 3.0-liter engine underhood, it is in the cockpit where things get different. Version 3.0 starts with a 6.5-inch display with Bluetooth and iPod capability and Alcantara seating. Navigation and a new JBL Audio system will be available as an option.
The 3.0 Premium grade features an upgraded 8.8-inch wide format touch screen display with Navigation, Supra Connect telematics, Apple CarPlay a premium 12-speaker JBL Audio system, wireless Qi phone charging and a color head-up display. Occupants will feel wrapped up by the GR Supra 3.0 Premium's leather seats.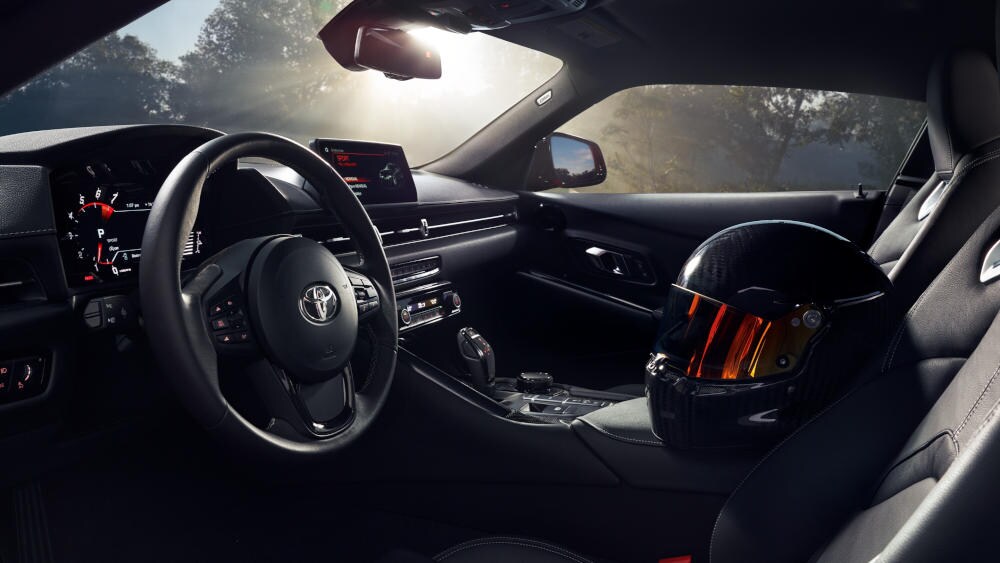 The cockpit blends the looks and feel of a traditional GT car with ultra-modern functionality. It sets our soul pacing. We know it will do the same to yours. Stop in at Toyota of Brookfield to learn more and see for yourself.
Please call to arrange a test drive of the Toyota GR Supra today:
(262) 671-3608

Reserve A 2020 Toyota GR Supra