Every vehicle that is serviced at Toyota of Brookfield goes through a multi-point inspection, including checking the braking system. This includes checking the brake fluid, brake pads, brake rotors, and other components. If you believe you need brake service, it is important to contact us as soon as you can to diagnose the issue and get your brakes repaired right away. Waiting to service your brakes can necessitate additional work and is a safety concern. 
How Do Brakes Work and Why Do Brakes Need Maintenance?
When pressing on your brake pedal, brake fluid pushes a piston which compresses the brake pads against the rotor. The friction between the pad and rotor causes your car to slow down. That friction will also cause wear over time, especially on the brake pads. It is important that your service technician regularly checks the fluid, pads, rotors, and other brake components to ensure your brakes are working properly.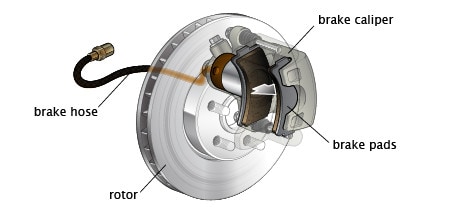 There are three common types of brake maintenance that will be needed during the life of your car:
Brake Fluid Checks
Every time you service your vehicle with us we will check the brake fluid and, as part of Toyota Express Maintenance, we will replenish the brake fluid at no additional charge. Brake fluid is part of the hydraulic braking system. Brake fluid drives a piston forcing your vehicle's brake pads to clamp onto the rotors, which slows your vehicle down.
Brake Pad Replacement
The most important part of brake maintenance is brake pad replacement. Brake pads are the component of your brakes that undergo the most wear over time. It is important to get your brake pads regularly inspected and replaced if they are worn. Failing to replace worn brake pads can cause serious damage to brake rotors. Brake pad replacement service costs are relatively low when compared to replacement of the brake rotors. It is important to ensure your brake pads are not too worn, so your braking systems are working effectively. Many brake pads will squeak when they are too worn as an indicator that they need to be replaced.
Brake Rotor Replacement
If you do not regularly service your brake pads, brake rotor replacement will be needed much more often, but normally new vehicles will require brake rotor replacement several times during the life of the vehicle. Brake rotor discs experience substantial wear over time. If you are experiencing a grinding noise from your brakes, you likely need immediate service. 
Other Brake Repair Services
Toyota of Brookfield's brake shop performs all types of brake maintenance and brake repair. This may include repairing or replacing brake fluid,air bubbles in your brake line, a leak in your braking system, a faulty master cylinder, rusty caliper guide pins, a lack of grease on certain brake components, worn brake pads, and worn or warped rotors.

Service Hours
Monday

7:00AM - 7:00PM

Tuesday

7:00AM - 7:00PM

Wednesday

7:00AM - 7:00PM

Thursday

7:00AM - 7:00PM

Friday

7:00AM - 7:00PM

Saturday

7:00AM - 4:00PM

Sunday

Closed