TOYOTA PRIUS AT TOYOTA OF BROOKFIELD
One of the most innovative vehicles on the road today, the
new Toyota Prius
, available at Toyota of Brookfield, pushes innovation even further by the introduction of the its available new AWD-e system. Designed for times when weather and road conditions are less than ideal, it is a new type of "range extender" that actually increases the locations and the distance the new Prius is capable of going.
It's just one of the improvements that help the Prius push on into new territories and roads ahead. It takes the Toyota motto "Let's Go Places," and literally makes it "Let's Go More Places, In More Conditions. The system provides more confidence and control allowing the Prius to "get on out there," even when weather and road conditions are not optimal.
Toyota has dropped the number designations of their Prius models in favor of the L ECO, LE, XLE and Limited models found on conventional Toyota vehicles. The AWD-e model will be offered in LE and XLE grades.
The Toyota Prius Hybrid System
The Prius AWE-e System is an automatic, on-demand system that does not require a center differential or other torque-apportioning device, nor a front to rear driveshaft. Instead, since it is based on an electric system, it uses an independent electric magnet-less rear motor to power the rear wheels from 0-to-6 mph, then up to 43 mph, when needed. The system works when needed, and goes idle when it is not, in an effort to maximize fuel efficiency.
All AWD-e models will utilize Nickel-Metal Hydride (Ni-MH) batteries which are more resilient when it comes to extreme temperature change. Conventional Front Wheel Drive (FWD) Prius models will continue to use Lithium-ion technology.
Speaking of front wheel drive Prius models, they're no slouches, either. FWD Prius models rule the road with impressive manufacturer-projected fuel economy of 58 mpg city / 53 mpg highway / 56 mpg combined with the L ECO model, while the LE, XLE and Limited grades project fuel ratings of 54 mpg city / 50 mpg highway / 52 mpg combined. This makes the Prius the most fuel-efficient
new Toyota car
on the road.
Any Other Prius Changes?
Plenty. They include a series of wider revisions such as new front and rear exterior styling including a new front bumper, headlamp design and taillamp revisions. The new AWD-e models will sport new foglamps and LED accent lamps. Interior updates are plentiful as well, including the addition of two additional 2.1 USB ports, an enlarged Qi wireless smartphone charging tray for larger phones and a standard heated steering wheel on the XLE, XLE AWD-e and Limited grades.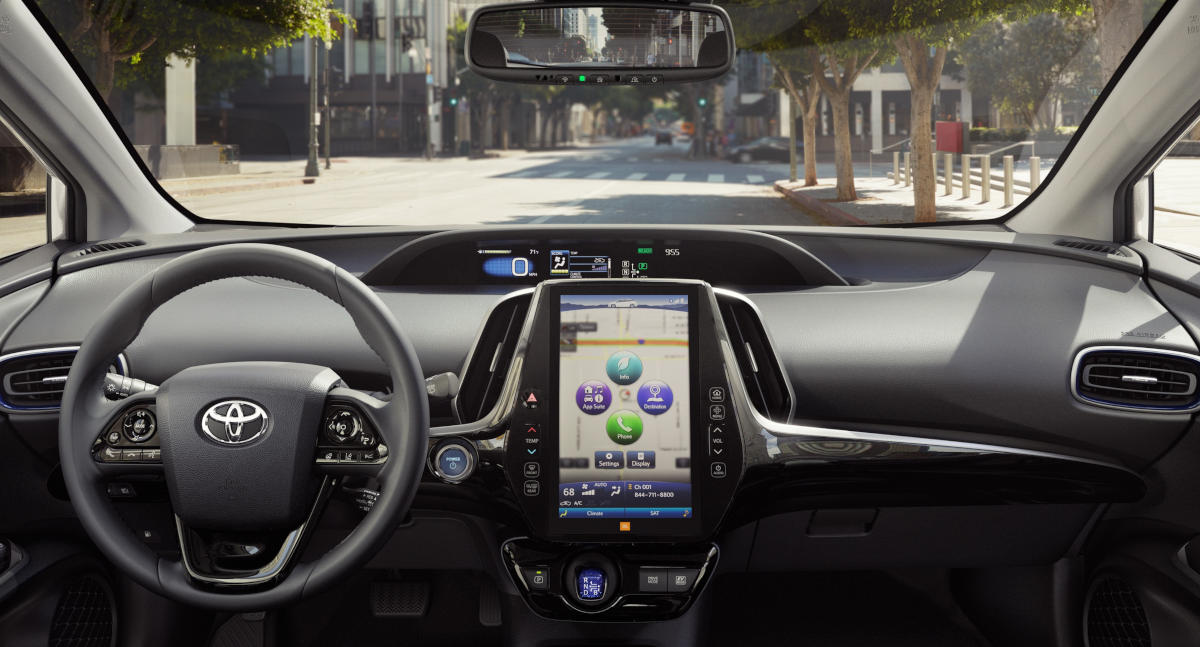 A cavernous cargo area awaits Prius AWD-e owners. Offering 62.7 cubic feet of carrying space with a standard 60:40 split rear seatback, it can put some SUVs and nearly all full-size sedans to shame. But wait, there's more! The Parts Department at Toyota of Brookfield offers the latest in Genuine Toyota Accessory parts including cargo crossbars for roof rack attachments, and mounts to carry your bicycle, kayak, snowboard or cargo carrier. With your new Toyota Prius, you can practice the company motto of Let's go places and once you are there, you can even go further.
Prius Performance
The Prius's Hybrid Synergy Drive system is shared throughout the Prius lineup, and combines the output of a 1.8-liter 4-cylinder gasoline engine with two motor/generators and a planetary-type continuously variable transmission (CVT). The Electronically Controlled Brake System coordinates between the regenerative braking system and the vehicle's conventional brakes, for optimal brake feel. The Prius body cheats the wind with an ultra-low 0.24 Cd rating, while automatic grille shutters close when they are not needed.
The new Toyota Prius carries on its tradition of innovations. One of the most capable vehicles on the road, it can serve many purposes for many people. To find out more, browse the inventory at Toyota of Brookfield. Call up one of our Toyota Sales Specialists for more information on this vehicle today.
(262) 671-3608.