EFFORTLESS SOPHISTICATION AND STYLE
Built in the U.S.A., the Toyota Avalon is a product of years of design and manufacturing expertise that results in one of the plushest vehicles on the road today. Built atop the Toyota New Global Architecture (TNGA) platform and powered by an award-winning, fuel-efficient 3.5-liter V6 or Toyota Hybrid System (THS II), the Avalon is a way that buyers can drive in luxury and efficiency at the same time.
A FULL MAKEOVER
The fifth-generation
Toyota Avalon
has received a complete makeover by company designers at Toyota's Calty Design Research Center. Designed with Authenticity and Exhilaration in mind, the new Avalon displays its authenticity in four grades ranging from XSE, Touring, XLE and Limited versions. Buyers looking for a fuel-efficient Hybrid Avalon can take advantage of XLE, Limited and XSE grades.
Long and low-slung, the expressive looks of the new Toyota Avalon will delight buyers, both inside, and out. That is, until they get behind the wheel. Possessing an invigorating driver experience, it follows that up with spacious accommodations for both passengers and their cargo.
A stunning
new luxury full-size sedan
is the presenting view of the new Toyota Avalon. Available slim all-LED projector headlights speak to sportiness and elegance, while the new modern grille is built for air-slicing sleekness, which provides cooling in the engine room and wind cheating aerodynamics over the front wheels. Along the side flanks, chiseled character lines tie the front and rear portions of the Avalon together.
SOURCED WOODS, SOPHISTICATED ELEGANCE.
Driver and passengers entering the new Toyota Avalon at Toyota of Brookfield will be surprised at the sophisticated elegance that is visible inside. Authentic materials, such as available Yamaha-sourced wood-trim, from the famous maker of guitars, pianos and motorcycles, trim the interior, while an expansive front seat offers a driver-centric cocoon that lays out all controls within arm's reach. A nine-inch multimedia screen displays audio and navigation controls and integrates the Avalon's climate control system. An expansive rear seat helps to swallow passengers, whole. Not really, but allow us some artistic license here, please.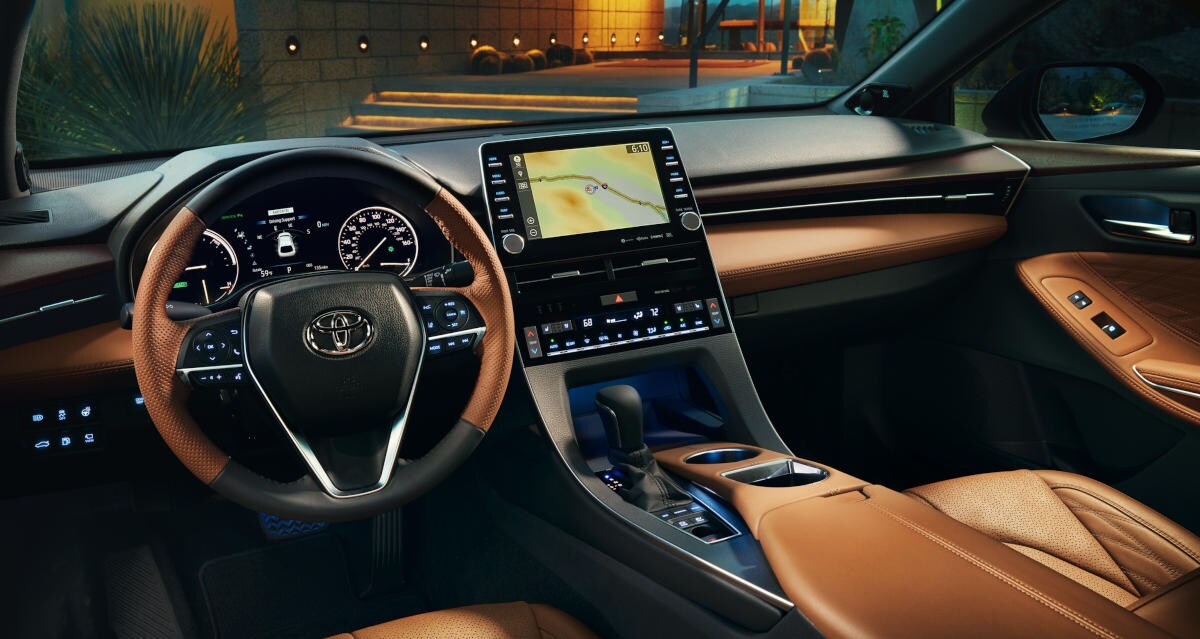 From an audio standpoint, the Avalon does not disappoint. A JBL performance audio system is on tap for Limited and Touring grades, while those seeking just a little more from their sound, can take advantage of an ear-drum popping 1200-watt system tailored by JBL. Sporting 14 speakers and tuned for 7.1 Surround Sound, it includes four JBL Horn Tweeters, a 12-channel Class D amplifier and an array of 3-, 5-, 6- and 10-inch speakers located throughout the cabin.
UNDER THE HOOD
Motivation for the Toyota Avalon comes from a choice of power plants. Fans of the internal combustion engine will select a punchy 3.5-liter Atkinson Cycle V6 engine producing 301-horsepower and 267 lb-ft of torque, and mated to an 8-speed automatic transmission. Hybrid aficionados will likely select the Toyota Avalon HV with its 215 horsepower 2.5-liter Dynamic Force four-cylinder Toyota Hybrid System II with 650-volt electric motor and a continuously variable transmission
With an EPA estimated fuel economy of 22 mpg city / 32 mpg highway and 26 combined for the V6 or a stellar 43 mpg city / 44 mpg highway/ 44 mpg combined, there's a Toyota Avalon for nearly every type of buyer and driver.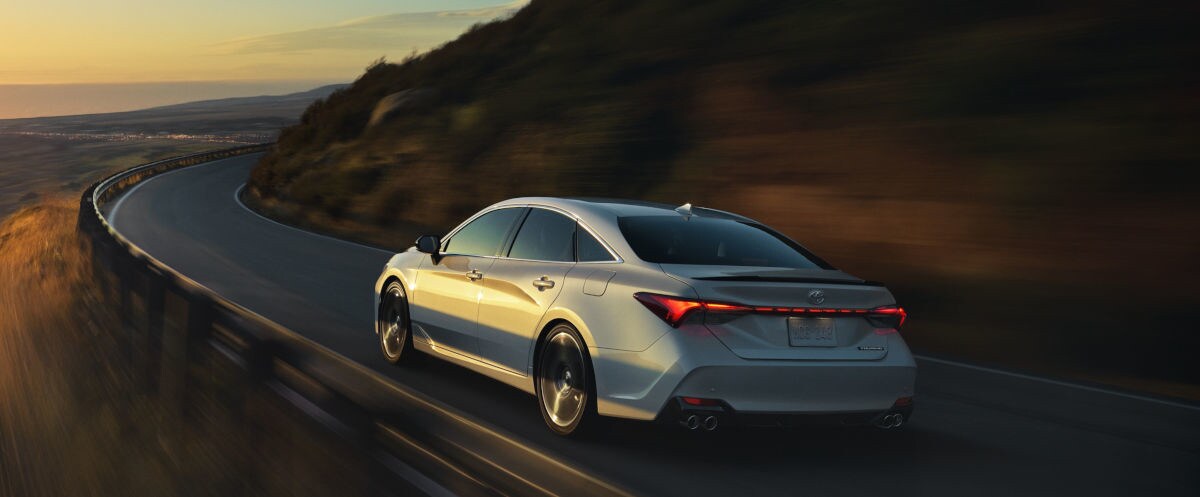 Browse the inventory at Toyota of Brookfield below and then call our Avalon experts to arrange for a test drive today at
(262) 671-3608.